Match Report - 16/5/98
HIV 165
DzR 229
Ahh dear, this match was a bit of a disaster from start to finish. We didn't have a full strength team out, which meant Thor was thrown in at the deep end against probably the best Quake 2 clan in Ireland. DzR took half an hour to get their team sorted out, so we started late, and I was a tad pissed off by the time we got going. Even when we did get started, we had to stop and restart due to more DzR problems. I didn't even bother to record demos.

1st Level - q2dm1, The Edge
This is our best level normally, and we've won it in the two previous matches, but we completely lost the plot team play wise here. DzR played excellent, with very good team co-ordination. Even so, we didn't let them completely hammer us.
Total Score: HIV 54 - 86 DzR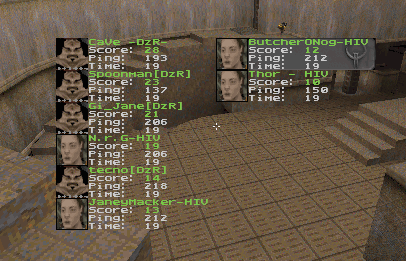 2nd Level - q2dm2, Tokay's Towers
This was no fun. Janey Macker's Mouse broke during this level. That was the sort of luck we were having. I'm just looking at the scores from this level, and if Janey's mouse hadn't of broke, I think we might have won this. It was much closer than I'd remembered.

Total Score: HIV 50 - 61 DzR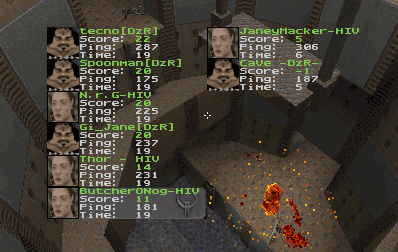 3rd Level - q2dm3, The Frag Pipe
The last time we played DzR's A team on this level we lost 122 - 22. We did a damn sight better this time. With Janey's mouse repaired, and me on one of my favorite levels, we pushed them all the way. GI_Jane disappeared, and I don't know when he left or what the story was. Very strange. This turned out to be our best match performance to date on the level HIV love to hate.
Total Score: HIV 61 - 73 DzR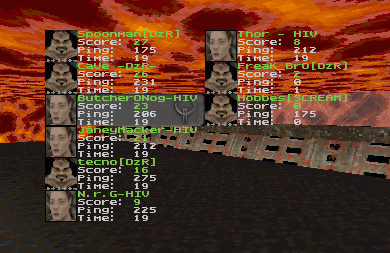 Now when I look back on the match, I feel we did better than we thought. We'll play DzR again once the band width problems with the servers is sorted, and we should push them all the way next time, hardware failures permitting. Another good point was the performance of Thor, who did very well for his first clan match. Things are looking good for HIV! On a different note, we had 2 or 3 unwelcome guests during the course of the match, and one prick in a Batman skin took ages to feck off.