q2dm1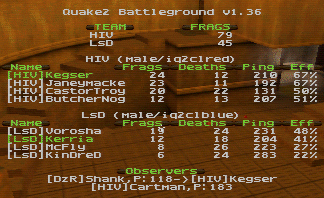 Very poor start here, we (ok not we, Castor) went off on a mad dying spree before settling down to tactics, we got control about half way through and then cruised to a comfortable win. I had 4 PJOD's and an overflow, happen enough then with 51%.
q2dm2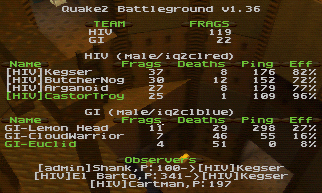 Nice match this one, its been a long time since GI beat us in the last IQ2CL. So we had a point to prove. We proved it. GI had little chance as they'd only 3 players present, so we took control quickly and never gave it back. Some good individual skill shown by the GI lads in the face of adversity.

q2dm3
A win against TUK but we still don't know the score as the server died with 3 minutes left. Final score was around 106-60 I think. Got dissed quite a few times and overflowed 3 times. Not good at all.
The IQ2CL sorted out a pretend score of 120-74, so that'll do.

q2dm5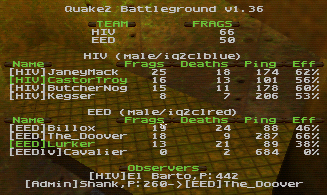 Ohhh some l33t rail skillz by moi at the start of this. We jumped into a decent lead but EED fought back well and it was in the balance for a while but in the end we pulled into a decent enough lead and held on. Sweaty stuff, with EED's HPB doing very well considering their pings.

q2dm6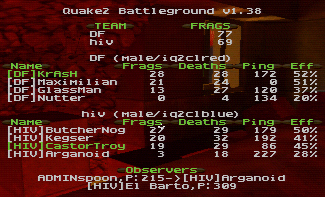 DF are oh so much improved. And it showed, ouch. The game started fine, and we moved into a decent lead but never managed to pull away from DF. After 10mins we were 41-28 ahead, a good enough lead but things went downhill from there. We lost BFG and they continually punished us with it. Whats even worse is that I held Quad much better in the last 10mins than the first, but due to complete lack of practice didn't use it properly, I should have taken and held BFG area with it. Ah well, DF have shown over the last 2 weeks that they ain't no pushovers anymore and punished us for the mistakes we made.

q2dm8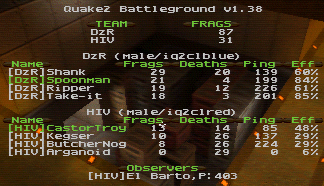 DzR on the final day of the season. Deja vue. And we played very poorly. Not much to say apart from DzR controling the RG/Power Shield area and us unable to dislodge them.