q2dm5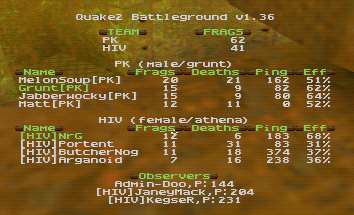 Argghhh P bloody K again. That was our reaction to this piece of scheduling brilliance. Anyway, it was a chance to show PK what sort of clan we really were. We unfortunately still couldn't field both our LPB's but we still gave a good account of ourselves. We hammered into an unlikely lead, 15-5 or something after 5mins or so. However, PK seemed to have at least 2 players on the Red Armor and Portent never really had a chance against them. I attacked them here with the last Quad and found 3 of em in there :). I think I nailed 2 of them before the time ran out. NrG did very well on the RL, getting the best efficiency rating of the match
.
q2dm6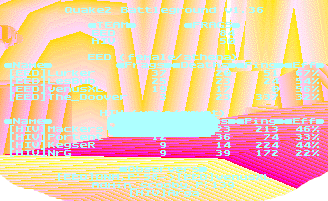 Argghhh EE bloody D again. The evening started bad, and slowly got worse. 2 of the team had massive pings, and despite connecting on different ISP's myself and Castor couldn't get anything like a playable connection. We put both subs in and watched the game using GameSpy in IRC. More trouble as the match began with Arganoid getting dissed. It was close for the first 5 mins, but EED pulled into a lead and we never really troubled them. This loss leaves us in a very dodgy position down in the relegation zone of the division. With 3 teams going down we've really got to put a few wins together. And the screenshot came out crap :)

q2dm8

This was prosponed due to a Barrysworld Router failure.

q2dm4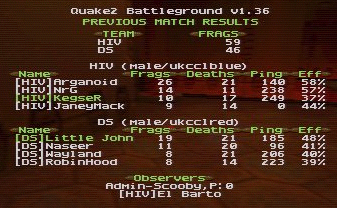 Our first win! This was a must win situation, DS were down there with us in the relegation zone and we just had to beat them. Arganoid played excellent on the Railgun but Kegser & Mackers suffered from their IOL connections not being as good as usual. After about 5mins, me and CT's pings to the server dropped from 2000ms to 250ms. Something somewhere is well fucked up.

q2dm8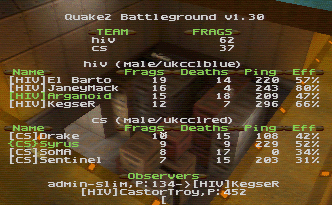 This was the rescheduled match that was prosponed due to a Barrysworld Router failure. CS were sitting above us in the table on frag difference and we knew that this was another must win situation. And boy did we give it a go. JaneyMackers had a stunning game, a big beautifull 80% game. Arganoid had it rough up around the railgun but kept CS to a minimum of Power Shields, which was what he was there for. Kegser started at a wild rate of knots and kept the BFG hoe'd for most of the game. Great performance *sniff* I'm moved to tears almost. CS were good sports and even had 5 playing against us for a while, such was their wish to give us something to shoot at.

q2dm2
I don't have a screenshot or a demo for this yet. Will update when I get one.
q2dm1
I don't have a screenshot or a demo for this yet. Will update when I get one. We got hammered by ABFAB. Not much to say about it.
q2dm3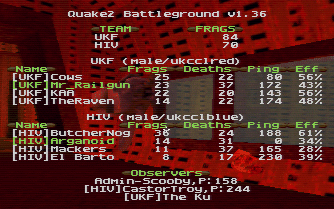 A defeat that sent us packing from Div2 of the league. Very disappointing. UKF had a plan and they stuck to it. We didn't stick to ours. UKF controlled the Quad & Railgun while the RL was our only bright spot.