q2dm3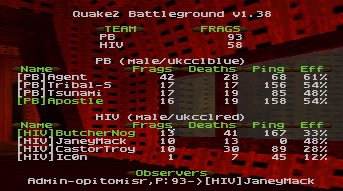 Our first match of the new UKCCL season against PB was a bit of a disaster, mostly due to tactical fuckups on our side, partly due to our players overflowing like mad. At one point it was 4v1. PB had only 1 overflow, plus we kindly gave them the quad damage for the entire game. Its a poor start but we can play better, which we'll need to do when we play HOOD next week.
q2dm6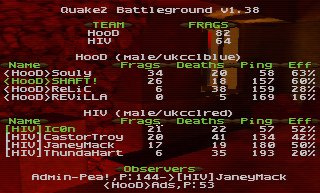 This one had only a couple of frags in it till the last 4mins, then we lost total quad control and HooD pulled away from us. A good close game and we played well, but top of the division HOOD were just too strong in the end.
q2dm5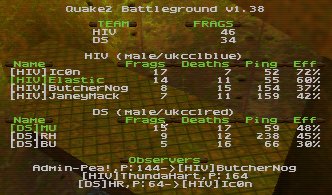 Back in business in Division 2 of the UKCCL, with a close win over DS, DS lead for the first part, while we then caught up and passed them in the last 10mins or so. DS lost a HPB to an overflow at some stage while we had no overflows at all, thats a first in 3 games.
trdm06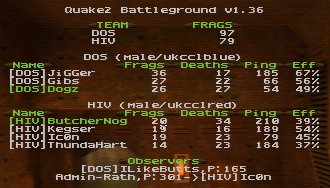 We played DOS on this level last season and lost 160-40. We knew we'd do better this season. Elastic was ill and didn't show so we'd only 1 LPB for the match. Even so, we had a nice start, tactics seemed to be working a treat, even if DOS were getting a few more quads than us. We moved into an 18-10 lead, and then that was pegged back to 28-22 when JaneyMackers had to disconnect due to the cops being at his door looking for a statement from him as he may have witnessed a kidnapping a few days before! Thunda came in for him but we lost our shape a bit, and the lead see sawed about until DOS took a decent lead with about 4mins left, we clawed back a bit, but not enough. Still, a very good performance.
q2dm1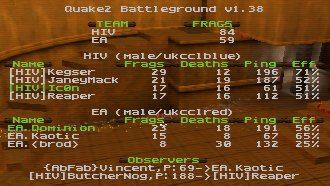 Wh000p, really good win tonight against a strong EA clan. EA had problems picking a team as the match started, and this confusion let us grab control of the level and we never really gave it back. Dominion played an absolute blinder for EA while Kegser showed all his old skillz with the best performance of the match. This gives us some much needed points in the race for survival in Div2.
q2dm2
Default win over NL.
q2dm8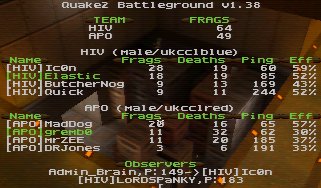 A very close win over APO on the final day of season 7. APO needed to beat us by 100 to stay up, and that never looked likely. They had problems during the game with one of their HPB's dissing for a few minutes, letting us take control and move into a small lead, which we never gave up. Not our best performance of the season but still a good win.