26/10/98 - Good win over TJD in UKCCL
Back on form even without key players. A good win over a good clan. Castor Troy further perfects his "Do not get killed tactic". I've updated the results page.

26/10/98 - Just back from QP
Will do something sometime, a HIV review or something. Fun was had by all.

19/10/98 - Messy win over SWAT in UKCCL
Not a good performace. I've updated the UKCCL Season 4 results section.

18/10/98 - Friendly Victory over DF
We played DF in a friendly today as practice for both clans upcoming UKCCL matches. I've updated the friendly results section.

15/10/98 - Friendly Defeat to DALI and UKCCL stuff
Yep, we lost a friendly match to DALI last night. I've updated the friendly match section with a wee report and screen shots. Vor is gathering together a strong squad and they should be much more competitive in the IQ2CL when it restarts. This isn't a blow to our confidence, more like a good kick up the arse after our big wins in the UKCCL. If you ever want a kick up the arse, Vor's the man for the job.

On the UKCCL front, DzR won on Tuesday in Divison 4b, while the clan that beat them in week 1 (KAM) seem to have disbanded/merged or something. Most strange as they were a good clan. Max's clan (of I shot in the arse badge fame), Dark Forces (DF), had a stomping good win way way way way way waaaaaaay down in Div 5 something.

12/10/98 - UKCCL Result
Our first win on q2dm8, and a pretty comprehensive one. HIV 108 - 8 SPOOKS. I've updated the UKCCL Results section.

11/10/98 - New Member Joins
Janey Mackers has joined the clan from rivals DzR. We're glad to have you on board as I'm sure we will have many good laughs.

8/10/98 - JM leaves
Janey Mackers has left the clan after a disagreement on team selection. Pity you had to go as we had many good laughs. Best of luck in your new clan.

6/10/98 - UKCCL Results updated
Updated the results section with our big win v TSC last night. Things won't be as easy next week as we really HATE q2dm8, q2dm2 is our favorite. A big thanks to DzR for hammering us on q2dm2 in the IQ2CL, as their tactics worked excellent last night. Also a thank you to Vor, the SCREAM lads and everyone else who gave us something to shoot at during our training sessions last week.

Just a wee word for the Edge, who have a review of the game on their site. These guys are keen. They had a reporter in #hiv during the match and wouldn't stop hassling us after the match until we gave them a report. Fair play to the lads.

4/10/98 - New Member
HIV welcome FlavorFlav, ex-FENS member and all round hip dude. Flavor cites the recent HIV shift to an orange color scheme as his main reason for joining.

2/10/98 - UKCCL Season 4 kicks off soon
We've got our first match at 8pm on Monday the 5th of October. Looking forward to it, but the information available on the rules concerning the restructuring of the divisions isn't available, so I have no idea how many sides in our division will be promoted/relegated. I have no idea why the format was changed as it was working just fine.

28/9/98 - LMCTF, the HIV love affair begins
Decided to download Loki's Minions CTF at the weekend, and boy was I not disappointed. The Tournament Edition v4 includes another 10 excellent new maps, most with all new textures etc. which make a welcome change from the standard quake II graphics. I really can't tell you lot just how good this is. It is well worth downloading it. You don't believe me? Well, check my mini review out.
26/9/98 - Little shop, little shopawhorium, wop suh bop - Suddenly Semor, is standing beside me
Rev Hellfire has updated his shopawhorium with some very exciting news, yes its ....

A game of strategy where men are men and sheep are scared.

18/9/98 - Nearly done now
We've just about finished the makeover, hope u like it (as if we could give a shit). Rev Hellfires Shopawhoarium is open for business, so go shop.

13/9/98 - Are we there yet, are we there yet ....
Yep we've moved, as those of you who have come though the old url may have noticed. Go on press it, see it takes you here. So mucho thanks to the ppl at Quake2.co.uk for the room. Now that we've moved we'll be updating the site more and doing major restructuring to it. Now I know I've said that before, but you'll have to trust me, or not depending on how well you know me..

The first bit of news is that theres going to be a good show by the HIV patients at Devores Quakepooton, with the possiblity of NrG getting his sorry ass over here for it to. I've still 3 spare invites to use, so anyone in need give me a shout.

29/8/98 - Promotion to Division 3 of UKCCL
The UKCCL season has ended, with a 50-49 win for us over TxF on Tuesday nite. We're up to division 3 next season. I've updated the Results section with all the matches played recently. I'm not completely sure about some of the scores.

25/8/98 - Back
The boulde Butcher Of Nog is back from his holidays.

22/8/98 - Da kids are just groovy baby
Not a lot to report. Thinks are going pretty well for the Irish clans in the ukccl ( ofcourse to call HIV Irish at this stage might just be pushing it abit, but hell our banner has green in it). Both HIV and the lowly DzR look like getting promoted. Largely thanks to our win this week against Spiz3, in what was a close fought match.

9/8/98 - I always said he didnt look right
Just back from Cavan, and thing sure are looking pretty gloomy, I managed to get pretty close to th ebarn we're the Jedi are conducting their vile experiments, by letting on I'm from Cavan (easy enough, just don't wash for about a week, roll around in some cow shit, and don't use big words, all the while doing the billard shuffle.
It seems that the experiments are further advanced than we had believed, they can now make cavan people look barely human now. I managed to take this short film of one the moheeps.

9/8/98 - I like watching apples go bad, there nothing better than a bad apple
Decided I didn't like the site as it was so I've decided to change the whole thing, so expect some major road works ahead, all depending of how arsed I can be to do the thing and how much drink I have on hand in the house.

Changed the general layout of the site. Still reckon the button to the left are far to helpful, so I'll replace them next with less meaning full text, no point making this site to easy to navigate, no siree.

Updated the members section El Barto and Jibba moved out of the temporary section to full members, I have could done it sooner but I couldn't be arsed.

8/8/98 - Viva Nog, the Butcher he lives!
I'm off to Mexico on Monday morning (10th) and I'll be back on the 25th. NrG is in charge until then, his e-mail is on the front screen so mail away to him.

6/8/98 - Apples and Oranges me lovely apples and oranges.
Well things are going pretty well for us in the UKCCL to date, with HIV having won the lastest match against the spooks which we won 68 to 22, in a very lagged game for both sides, but thanks to a complete inablity to get co-ordinated by the Spook's allowed us to win on what was to all purposes a two man HIV team, with Castor and Me (Rev) spending most of our time supended in mid-air. At this rate we may have a chance of advancing a division in the league if we can win the next few up coming matchs.

1/8/98 - Here pussy , thump
Well well it seems I've pissed of another mini nazi.

As some one you maybe aware, some people found cause to object to a recent posting by yours truly, which resulted in it getting removed and me been told I'm very boldy. Well since this is my site I've decided to allow you all to see said link and let you decide for yourselves. All I ask is that quake 1 players and any JEDI members get there mammies to hold their hands cos it might be a little bit upsetting for you delicate young things.

I proudly present :-
CatsAsTrophies

Since you've reached the site, you will have noticed that we are no longer hosted by the IGN, this decision was taken due to the obvious differences in attitudes between said management and this clan. This action was taken to avoid possible future conflict between us over content.

We hope to be joining Doozer on the other side of the water soon.

29/7/98 - UKCCL & IQ2CL & More
Fucking class match against EM on Sunday in the IQ2CL. Would have been even better if we had won. We had a victory in the UKCCL v Clan PB. I've updated the Results page, but haven't done any reports or anything yet.

The MORE Bit - IGN, the adverts and the legal stuff.
Ok, HIV are signing the legal document, and are staying at quake.ie (if they will have us). We will put the ad banner in a frame and bobs yer uncle. Why?

1. Free Quake Servers from IGN
2. Free web space from IGN
3. The Entire Irish Quake Scene, helped to grow into what it is today by IGN (mind u, Obi did create the Q2 scene, so not the entire scene credit there to IGN).

Why are people so bothered about all this? It's just an ad banner.

22/7/98 - Awaiting a vist from my good friend Lady Cottington
Updated the members section with the Castor Troys shameful past.

22/7/98 - In between the bit before dinner
Well HIV played their first match in the UKCCL against the BBC. It was all a bit of a non-starter. We had to hang around for an age in IRC before been allowed onto the server, only to be told to bug of cos the other team had not bothered to turn up. This at least evens the score up for us, since we inherited a no-show from the previous clan in our slot.

But on to more serious matter, cue worried brow.

Yes folks I'm back, after a few weeks under cover I can now tell the shocking truth that drove my good mate Zero out of the country. A most hideous plan by a well known quake 1/2 player, who plays of world domination, I have uncovered. We shall for the sake of my fellow under cover agents in his clan call him, say.... NameLess [of the no name] or NameLess [otnn] for short. I shall now hand you over to my good friend, TObi.

"For a long time now I have long suspected some thing was just not right in the state of Cavan, people with such jutting chins, and long foreheads can't be natural. I can now reveal that Cavan people are in fact, part of a breeding program, orchestrated and run by the people of Longford. For centuries they have been inter-breeding Cavan people with general livestock in the hopes of making a more docile breed, combining the best traits of the animals in question, with the gross stupidity of Cavan people. This affront to nature must be stopped, if god had intended animals to be that stupid he would have made them that way.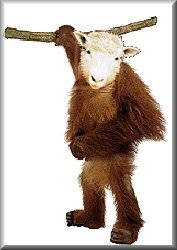 Their vile breakthrough came when a mysterious organisation known only as the Gedi volunteered to participate in these acts of carnal unholiness. As their spokesman said if it's good enough for Tori Lamos to have relations with pigs its good enough for us. To the left an example of the twisted offspring of the Sheep-Cavan-Gedi union, combining the general woolly/Cuddliness of sheep, with the raw animal cunning and savagery of a Gedi member, the breed has been unfortunatly blighted with the body of an average Cavan person, although they'll be a big hit in the disco's of Monaghan, possibly.
Using these Monkeeps-Warriors (tm of the Obi-wanajitcy corporation), Nameless [otnn] will unlease armies of these foul creations upon us, I will uncover more !
13/7/98 - Just before 7 of 9 gets her kit off
I updated the Results section with a report on the friendly against Clan Nightmare. This site is rather cool, if a bit slow to load the first time. Lovely scary sounds.

Downloaded GibStats at the weekend, and had loads of fun (I know, a bit sad, but I love statistics) adding in logs from a few previous matches, plus the training sessions we had over the weekend. This is an excellent utility, and I'd advise all clan leaders to go out and download it, as it's well worth it. Definitely tells you where you and your clan members are strongest and weakest.

The IQ2CL is coming along nicely, with 8 clans in at present. That's including clan Dali, although this means that they will have to announce their roster before the league starts if they want in.

On the UKCCL front, the organizer's PC went down, and that's why we were missing from the waiting list. I've mailed him about this, and we'll be back on the list in no time. DzR's first game has been rescheduled, and I think it's on tomorrow? Good luck lads, give em hell.

08/7/98 - Published IQ2CL Draft Rules
Read these, see what you think, and mail me with your comments.

Draft IQ2CL Rules

Castor Troy has been moved off the On-Trial list, and is now a full member of the clan. Expect to get gibbed by him in the IQ2CL soon.

04/7/98 - Finished & Loads of News
I've finished giving the site a more colorful look. Hope you like it.

Changed the Format of the News Page and added links for Q2 News and the Onion. If you've never read the Onion, now is a good time to start.

Whoopee, 3 new Members:
HIV-El Barto
HIV-Castor Troy
HIV-Jibba.
Updated the members page and also added in a profile and picture for Thor (ripped off from Thors site).

Did a reworking of the Links page, made it nice. Added in a clan profile for SCREAM.

Rumors abound that Rev Hellfire is re-joining HIV. I'm sure its just a rumor. Also heard that a new clan, clan SCAB, was starting up.

The Irish International Quake2 panel was announced on the Q2 News site. Both myself and Janey Mackers are included. That hoor of a former member, Rev Hellfire, is also on it.

Boba Fett will be returning from Italy soon, so the Q2 Clan League will be kicking off in no time at all.

The next season of the UKCCL is starting on Tuesday. We missed out, but are on the waiting list for next season. DzR's first match is on Tuesday.

23/6/98 - Major Site works Ahead
Yep, i'll be giving the site a make over, so it will probably look a bit naff for a few weeks, until I get all the bits done. Yes, more naff than usual.

20/6/98 - Rev Hellfire is no more
Yep, he's out of the clan, due to personal differences. He will be missed. Will he? Answers on a postcard.

16/6/98 - Are these headings really necessary?
Re-vamped the results page a bit, as it looked like luke warm shite.

14/6/98 - Just after pondering Hobbes grip on reality
HIV v SCREAM match report in the results section. Hobbes kicked our arses on the second level. Well, so he says. Look at the scores man.

12/6/98 - Just before "Give My Head Some Peace"
Got around to archiving the news. You can browse through the old stuff in the Old News section at the bottom of the page.

HIV Clan Skins - About time you might say. Here's how its looking at the moment. Still some work left to do. The female model does some wild skin stretching around the breasts, so it's not easy getting a decent sized image or text on the chest area. You may recognise parts of this skin, as all it is, is a big cut and paste jobbie.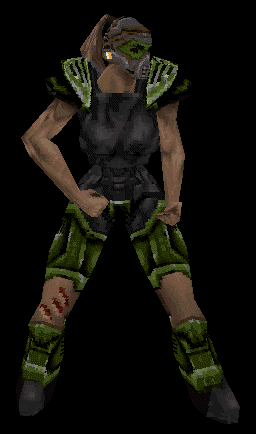 10/6/98 - Who cares
Bored to death.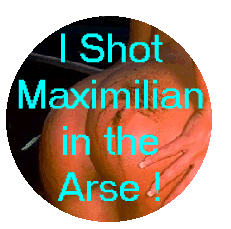 7/6/98 - Late enough
Well we had to abandon the DzR vs HIV CTF game, due to lack of available of the CTF server. Hopefully there will be some way to organize a dedicated CTF clan server, maybe even with the war server been able to run both DM and CTF. Is it possible ? Haven't a clue. Pity about the game as both ourselves and DzR were looking forward to it.

7/6/98 - Just after watching a rerun of 'TalkAbout'
Started work on a new Q2 MOD. Its called 'Celebrity Corpse'. Check it out in the mods section.

Two new Badges for you to enjoy. Feel free to cut the fingers of yourselves.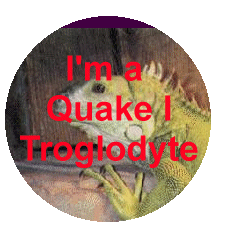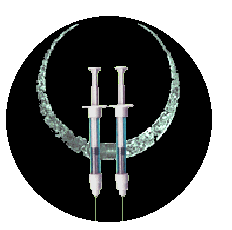 6/06/98 - Early Saturday morning
Well haven't been updating this page much in the last week. The main developments are that it seems that the Jedi have come out of their two month hibernation, and have played a Netherlands clan. No doubt the Jedi web page will be updated in a month or so.

Two new Irish Quake2 News pages have opened their doors, with the first off the starter block being Boba-Feta's Q2 War machine , which is currently ahead in content. The second news page is Cave ( of those DzR swines, eternal HIV enemies, well their the only enemies at the moment, a pox on those other Q2 clans ) and Shank's Q2N page.

Tried to organize a clan match against QGirlz but they are unable to play ( not because their girls mind you ) due to a complete lack of interest. But visit their web page as it's well recommended.

Received a challenge from Kulprit of Clan Hate Inc, which we hope to play next weekend or so. when NrG and others are back from holidays.

3/6/1998 - Clan Match Result
Updated the results page with the match we played against SCREAM on 17/5. We weren't going to count this as a clan match, as it was only one level, but they put it down as a defeat on their site, so why shouldn't we claim it as a victory?